Want Straight Teeth Fast? AcceleDent is the Answer
by Sonya Prillaman
We often have patients who come in to Orthodontic Arts to discuss straightening their teeth who are concerned about the length of time that the orthodontic treatment will take.  Adults are especially anxious to have their teeth straightened quickly.  Traci is one of our adult patients who works in a professional position.  She was interested in improving her smile and bite and wanted to move the progress along as quickly as possible.  Kasie is another patient and college student who wants to finish her orthodontic treatment as soon as possible so she can feel confident for job interviews.  Another patient, Howard, waited until he was retired to correct his teeth.  He wanted the process to be as quick as possible.
All of these patients have used the new AcceleDent Aura device available at our office to drastically reduce their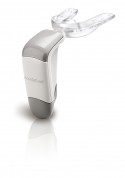 treatment time (up to 50% faster).  Part of the way that orthodontics works is by remodeling the bone surrounding the teeth. As this remodeling process is accelerated, teeth move more quickly. That's where AcceleDent helps. Patients bite on a mouthpiece attached to a simple-to-use, hands-free device for 20 minutes a day.  Tiny vibrations cause bone remodeling to occur more quickly, and this accelerates tooth movement.  Invisalign patients are able to move to new sets of aligners after 1 week instead of the normal 2 weeks.  Patients in braces are able to have their wires adjusted more frequently resulting in a faster finish.  Patients using the AcceleDent device also report that they have less tooth soreness.  Our patient, Traci, who used AcceleDent says ""I was amazed at how fast my treatment time was with the help of Acceledent! It cut the time in half. I believe this product will be extremely popular with anyone who wants to be on a fast track to straight teeth."
Contact us at Orthodontic Arts to find out more about how you can straighten your teeth faster with AcceleDent.  Dr. Prillaman and Dr. Sterne would love to meet with you for a free consultation.