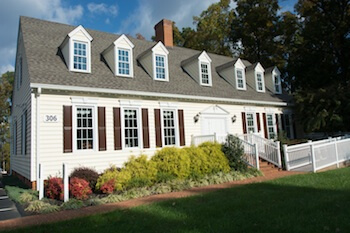 Located at:
306 Brook Park Place
Forest, VA 24551
434-385-4499
434-385-7944 (fax)
Hours: Monday – Friday, 8:00 AM – 5:00 PM
Our office is conveniently located just off Enterprise Drive between Wyndhurst and Route 221 (Forest Road). Click the map to go to Google Maps for directions to our office.
Tour Our Office
We invite you to spend some time with us and let us show you a new approach to orthodontic treatment. Our patients and their families are excited to come to appointments.
Reception Area – Comfortable and Entertaining
Our waiting area has two massage chairs, a coffee bar, wireless Internet access, interactive artwork, a large screen television, and commercial free music to enjoy. No matter what the age of our guests, we offer an enjoyable refuge from hectic daily activities.
Arcade   -More Fun Than a Doctor's Office Should Be
Our game room is build around a mini movie theater and includes a pinball machine, classic arcade machines, an exciting carnival shooting gallery game, and touch screen game systems.
Toddler Area –  Fun for Younger Siblings
Our reception area includes a young children's and toddler area for the little ones that accompany their family members to appointments. This area has its own touch screen computer game system as well as fun wall-mounted activities.
Main Treatment Area – Be Entertained While Being Treated
All of our treatment stations are equipped with dual computer monitors. One monitor allows the staff and doctors to view the treatment history, enter treatment notes, and view each patient's photos and digital x-rays. Patients may use the other screen to watch television during their appointment. Granite work surfaces, hardwood and tile floors, and many other extras coupled with the most comfortable treatment chairs in the industry help to make our patients' treatment an enjoyable experience.
Additional Treatment Area
For a more private experience, we have a separate smaller treatment area that is set off by a flowing water window.
Consultation Rooms – Private and Informative
We have two private rooms dedicated to examining new patients and consulting with their families.  These rooms are spacious and offer ample seating for parents and siblings.
3D Imaging Room – Cutting-Edge Diagnostic Equipment
We are proud to have installed the area's first dental conebeam (CBCT) scanner. This amazing technology allows our doctors to view every structure in the head and neck region in detailed three dimensions. This information is invaluable in the assessment and treatment planning of jaw surgeries, degenerative joint problems, sleep apnea, dental implants, and the management of third molars and other impacted teeth. We are committed to providing the highest level of care and technology available in orthodontics today.
Sterilization – Safe, Secure and Convenient
Our commitment to patient care extends to our non-patient areas. We have invested in the most up to date sterilization center and laboratory equipment available. In our office, all instruments are autoclaved. Our system consists of stainless steel containers, which compartmentalize our instruments through the sterilization process. Instruments are self contained all the way through the sterilization process, consisting of ultra-sonic treatment for cleaning of the instruments of any debris which might be adhering to the instruments, followed by a water rinse, and then into autoclave for sterilization.
Kinetic Art – A Mesmerizing Moving Sculpture
We are very proud of the rolling ball sculpture displayed in our main treatment bay. This one-of-a-kind metal sculpture stretches thirty feet wide by seventeen feet long and is suspended over our entire main treatment bay. Artist Eddie Boes was commissioned to create this truly amazing moving artwork to capture the interest of our patients as they lay back in their chairs. A central lift mechanism guides balls up to the ceiling where they are released to roll down one of three different sections, allowing gravity to carry them down over 150 feet of elegantly curved track. This piece is the highlight of all our kinetic artwork and the centerpiece of our office theme of creating beauty through movement. We are also excited to display original 3D artwork by renowned artists Robert Silvers, Patrick Hughes, and David Roy.